How to Design
step 1

Choose The Item You Want
There are pillows, hoodies, blankets, etc. for your choice.
step 2

Choose The Design
Choose one from your device or Click the Google link to find one!
step 3

Arrived Quickly
Make this item a meaningful gift!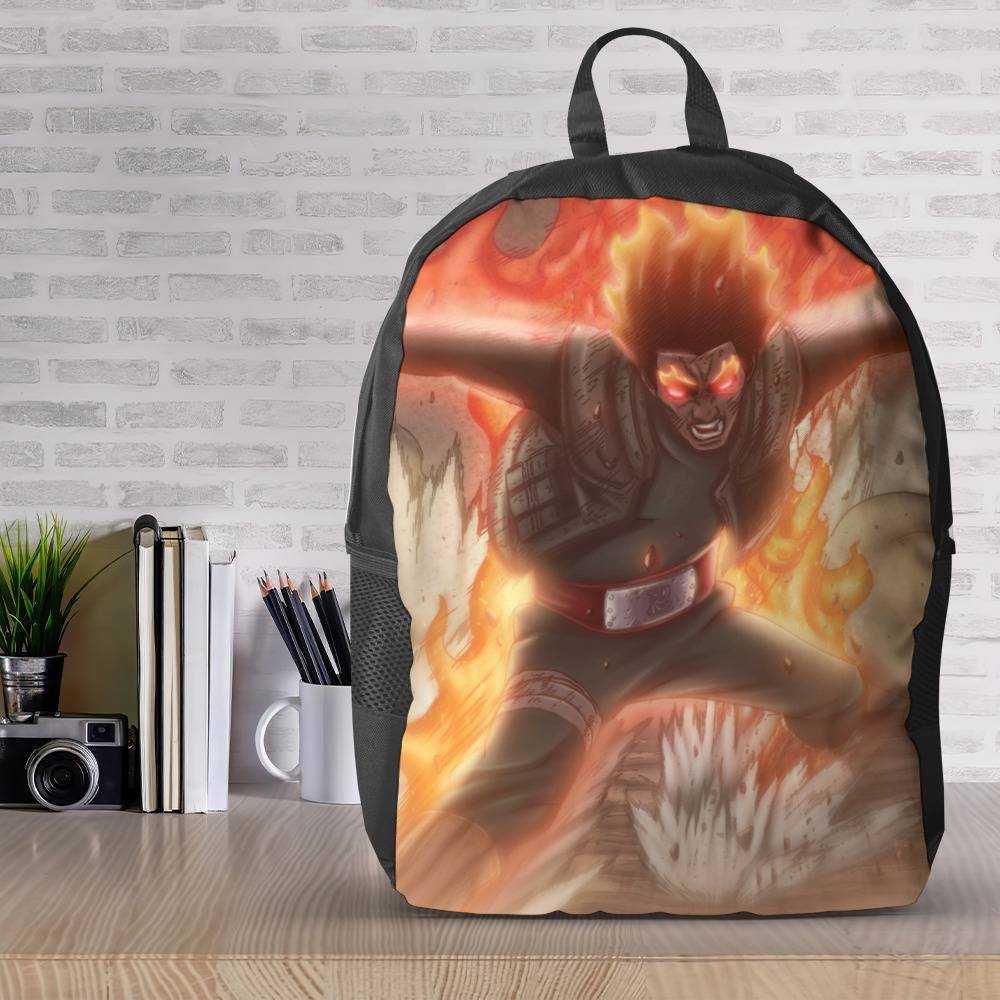 Naruto Backpack, Might Gai Backpack ,Waterproof Backpack
description

Welcome to our Naruto Store! Gift this personalized Might Gai Backpack to anyone who loves Naruto. - Padded back panel - Padded adjustable shoulder straps - Grab handle - Dimensions:(L x W x H): 12.5in(32cmcm) * 5.5in(14cmcm) * 16.5in(42cm) Shipping details: - Please allow 2-4 working days for our production wizards to create your product before shipping.
shipping

Free shipping for orders over $49

You can choose the shipping method during checkout:

Standard shipping: $7.99

Arrives 7-15 business days after the production time

Express Shipping: $29.95

Delivery 4-6 business days after the production time
Dear Ninjas - Welcome to Naruto Merch Shop
"Naruto" is the representative work of Japanese manga artist Masashi Kishimoto. The work was serialized in Weekly Shonen Jump in 1999.
The story successfully depicts the ninja who was originally hidden in the dark and used the world's most powerful perseverance and hardest efforts to do the most secretive and hidden cruel things and depicts the proudest and brightest profession under the sun. In the ninja world written by Masashi Kishimoto, every young ninja is developing his own way of the ninja.
Naruto is the sixth best-selling manga series of all time. 250 million copies were released in 47 countries and regions, including 153 million copies in Japan. It has become one of Viz Media's best-selling comic series. Their English translations have appeared multiple times on USA Today and New York Times bestseller lists. The final episode of this article was published in Weekly Shonen Jump 2014 issue 50. In the spring of 2015, the new chapter is scheduled to be serialized in a short period of time, and the news of novelization will also be published. Later, the new chapter "Naruto Gaiden ~The Seventh Naruto and the Scarlet Flower Moon~" was serialized in a short-term series from the 22.23 merger to the 32nd of "Weekly Shonen Jump" in 2015.
Naruto Uzumaki
Naruto Uzumaki is the male protagonist in the Japanese manga "Naruto" and its derivative works. He is a young ninja from the fictional village of Konohagakure (Hidden Leaf Village). Parents sacrificed to protect the village at his birth, They sealed away the Nine-Tailed Demon Fox in his body. He was discriminated against by the villagers since he was a child. However, with the encouragement of his only teacher, Umino Irukae. He wants everyone to agree with his existence. After becoming a ninja, Kakashi and Hatake, Sasuke Uchiha and Sakura Haruno formed the seventh squad to carry out various tasks.
To realize his dream and protect the bonds of his partners, Naruto continues to practice and become stronger. In the process of pursuing his dreams, he constantly breaks through himself, implements his way of forbearance, and is recognized by people. In the end, he ended the war with the Ninja Allied Forces, Uchiha Sasuke, and Nine Tails. Bring peace to the ninja world.
What Can You Get from Naruto Merch Shop?
For all the Naruto fans, we have prepared a variety of Naruto items, such as Naruto Cloth, Naruto Accessories, Naruto Decoration and more. They are of high quality and fashion style.
Naruto Hoodies: Naruto Hoodies are loose and casual, and it is not only thin but also thin when worn! The style is also full of vitality for age reduction, and the thin fabric is not very thick. Perfect with wide-leg pants, slacks, and jeans! Go and choose your Naruto Hoodies.
Naruto Blanket: Our Naruto Blanket can be used in many ways and in different seasons. In spring and autumn, it can be a thin quilt due to its light, soft and warm features. It fits snugly but is quite breathable, making it a rare bedding item.
Summer is the ideal summer quilt. Although it feels fluffy to the touch, even a thicker blanket is quite breathable and comfortable to cover.
Best Naruto Merch Shop for Best Naruto
We provide the best shopping experience for all Naruto fans. If you have product-related questions, please feel free to contact us. We will answer you as soon as possible. Also, we offer the best quality products that you can buy with confidence. Our aim is to let you harvest as soon as possible so that surprises appear in front of you as quickly as possible.
Have a question? Have any issues you need to bring up with us? Email us anytime, at [email protected]naruto-merch-shop.com.
Hope We Can Brighten Your Day